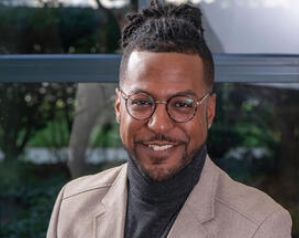 Marcus D. Smith, PhD, LCPC
Core Faculty On Ground Counseling Program
Dr. Smith is Core Faculty in the on-ground Counseling program at The Family Institute of Northwestern University. He is also a Licensed Clinical Professional Counselor in the Chicagoland area for 12 years. Dr. Smith earned his PhD in Counselor Education & Supervision at The Chicago School of Professional Psychology. Social justice, trauma, LGBTQ, men's & minority mental health inform his work in the clinical, teaching and research settings. Dr. Smith's previous work include serving as a liaison and consultant in multiple research projects from DePaul, Rush University, and The Morton Group concerning LGBTQ communities. His awareness of his own positioning in research reinforces the intimacy and care he provides to populations of interest. As a practitioner-scholar, Dr. Smith maintains a commitment in conducting research in a manner that prioritizes the voices and wellbeing of the communities he serves.
Recent Presentations and Publications:
Smith, M. D. (2020). The Challenges of Starting and completing Master's Level Training. In Routledge, Beginning Your Counseling Career: Graduate preparation and beyond (pp. 18-28).
Smith, M.D. (2020). Intersectionality of Attachment and Interpersonal Dynamics. In Lexington Books, Black Millennials: Identity, Ambition, and Activism (pp. 23-32).
Smith, M. D. (2021). The Lived Experience of Gay Black Men in the Black Church Through the Lens of Intra-Racism and Toxic Masculinity (Order No. 28313965). Available from ProQuest Dissertations & Theses Global. (2494892169).
Pending Smith, M.D. & Dhar, J. (2022) "Tending to Intersectional Identities of Diverse Counseling Students"