Counseling@Northwestern Faculty Present on Timely Issues at American Psychological Association Convention
As a student at Counseling@Northwestern, you will be encouraged to attend professional conferences where you'll have opportunities to learn from leading voices in the industry, attend workshops addressing pressing issues facing clients, and network with professionals who may be able to help you achieve your career goals. Some of those voices may even be your instructors in the program. At this year's American Psychological Association Convention, three Counseling@Northwestern faculty members presented on a wide range of topics, highlighting the many subjects attendees can expect to learn about over the course of the event.
Unique Perspectives of the Impact of Media on Sport Psychology
Co-Presenters: Dr. Joan Steidinger, clinical and sport psychologist, and Dr. Harold Shinitzky, sport psychologist and motivational speaker
In this symposium, Dr. Kerulis and her colleagues explored the representation of sport psychology in various aspects of the media. The presenters covered topics such as the impact of social activism by athletes, media portrayals of sport psychology and athletes during the most recent Olympic games, and the role that gender plays in media coverage of athletes, focusing specifically on the experiences of women of color. The presenters highlighted how clinicians can work with the media in ethical ways to address each of these issues.
"Clinicians should be knowledgeable about how the codes of ethics guide our interactions with the media so that our clients' privacy is protected and the public has a deeper understanding of our field," said Dr. Kerulis, who also serves as coordinator for the Association for Applied Sport Psychology's Media in Sport Special Interest Group. "Media training is recommended before clinicians decide to engage in media interviews."
Psychological Artificial Intelligence (AI): Ethics, Empathy, and Outcomes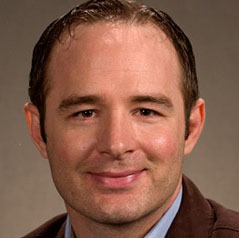 Co-Presenter: Angie Joerin, digital health director, clinical development at X2AI
With his co-presenter Angie Joerin of X2AI, an artificial intelligence organization out of Silicon Valley, Dr. Fulmer led a discussion on the application of AI in the psychological sciences. During the presentation, they examined the use of psychological AI bots as mental health support agents and the ethics of delivering mental health care in this unprecedented form.
"The qualitative findings are intriguing," Dr. Fulmer said. "Some users, certainly not all, warm up and, dare I say, bond to the AI."
Dr. Fulmer noted that research on college students who used these bots showed the technology to be effective in mitigating the effects of anxiety and depression. He also touched on the capability of bots to interact in diverse populations.
"Psychologists, like others, can be skeptics of AI, yet also recognize that the technology is among us and likely to grow in influence," he added.
Psychotherapy with Black Women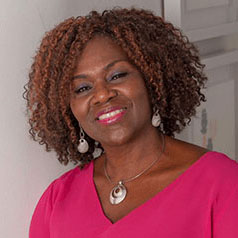 Co-Presenter: Dr. Adia Gooden, licensed clinical psychologist
With the goal of practicing skills to improve therapeutic relationships with Black women, Dr. Baptiste and Dr. Gooden facilitated a continuing education workshop that explored common barriers and challenges in doing therapy with this specific population and strategies to overcome these challenges.
"Neither race nor gender alone can explain social and cultural conditions for Black women but the intersection of race and gender in addition to other identities keep Black women as a disadvantaged group," explained Dr. Baptiste.
The workshop used case examples, role playing and other experiential learning techniques to improve clinical knowledge and skills that attendees can integrate into individual, couple and family therapy with Black women.
"Culturally competent therapists working with female clients must be familiar with social cultural dimensions of Black women's lives to build rapport, to appropriately assess and treat, and to instill trust in psychotherapy as a helpful process," Dr. Baptiste added.
Conferences like the APA convention offer valuable opportunities for professional development and continuing education throughout each counselor's career. And as students, you may even have the chance to co-present with your faculty. If you're interested in taking on one of these opportunities, remember that being proactive is key. Identifying your areas of interest and determining which faculty share those interests are the first steps toward facilitating a discussion yourself.
Citation for this content: Northwestern University's online Master of Arts in Counseling program.