The Importance of Self-Care for Caregivers
Considering a Career in Counseling?
"Whatever the reasons, individuals that choose to seek a career in counseling usually have one thing in common—a desire to help people work through life's challenges."—Council for Accreditation of Counseling and Related Educational Programs (CACREP)
Read the text-only version of this infographic.
Susanne White's life as a caregiver began one Christmas when her father collapsed during an airplane flight and had to be wheeled off the plane.
The stoic former World War II bombardier pilot had given his family no hint of his exhaustion. He was the caregiver for his wife, who was slipping into dementia. The two of them were hiding their desperation from their family to maintain their independence. Now he was knocked down by pneumonia.
Over the holidays at the end of 2005, White asked her father if he wanted help.
He didn't hesitate. Yes. He needed it.
For White, a personal assistant in New York City who was in her mid-50s, this meant four years of leaving work every Friday and battling traffic the length of the New Jersey Turnpike to spend the weekend in South Jersey caring for her parents, Claire and Frank White. It was work on top of work.
"It's the hardest thing I've ever done, but it's the greatest thing I've ever done," she said. "There is hope and empowerment and joy, as well as fear, anxiety and insanity."
"Caregivers can lose the ability to care for their own needs,"
Dr. Davis said.
She's far from alone. According to the National Alliance for Caregiving and the AARP Public Policy Institute Care Giving in the U.S. Report, more than 43.5 million Americans (1 in 5 adults) provided unpaid care for elderly adults in late 2014. On average, caregivers each spent $6,954 in out-of-pocket expenses in 2016, providing more than 24 hours per week of care to their loved one. When almost a quarter of caregivers spend five or more years caring for another person, the financial and emotional toll can add up.
Those hours and years can be tender but toxic, said Dr. Tonya Davis, a licensed clinical professional counselor (LCPC) in Illinois and a clinical training director and core faculty member online Master of Arts in Counseling program.
"Caregivers can lose the ability to care for their own needs," Dr. Davis said. "Maybe they have to quit a job. There's possibly a lack of self-care. The worst that can happen is you get taken down by it all and you lose yourself, not just emotionally but, potentially, physically."
Help Yourself First
When a caregiving spouse begins to fail, the responsibility for caregiving for both parents typically falls to an adult child. The Family Caregiving Alliance in San Francisco, part of the National Center on Caregiving, says caregivers should consider the instructions given to airplane passengers when air gets thin: Put your own mask on first. Then you can help others. A caregiver in crisis is cannot dedicate the attention necessary to care for a loved one.
White remembers waking up at her parents' house at 5 a.m. on a Sunday, in a panic.
"I was completely burned out," she recalled. "I was like, 'Oh my God, I can't do this, I can't do this, it's too much. I don't know what I'm doing. I can't do this. They're going to die. I'm going to hurt them. I'm not going to be able to handle this.'"
In need of advice, she called a friend who had also cared for a parent.
"Leave," her friend said. "Get out."
Her friend told her to write down what needed to be done to make her parents comfortable and to explain to her father that she had to get back home for something.
"Just get done what you need to get done and get out of there, and the minute you get on the highway, you are going to feel better," her friend counseled. "You are burned out and you can never let yourself get like that again."
After her parents passed away in 2010, White created the online community, Caregiver Warrior, featuring articles, products and tips to help others survive the caregiving years. She learned she could not do it alone.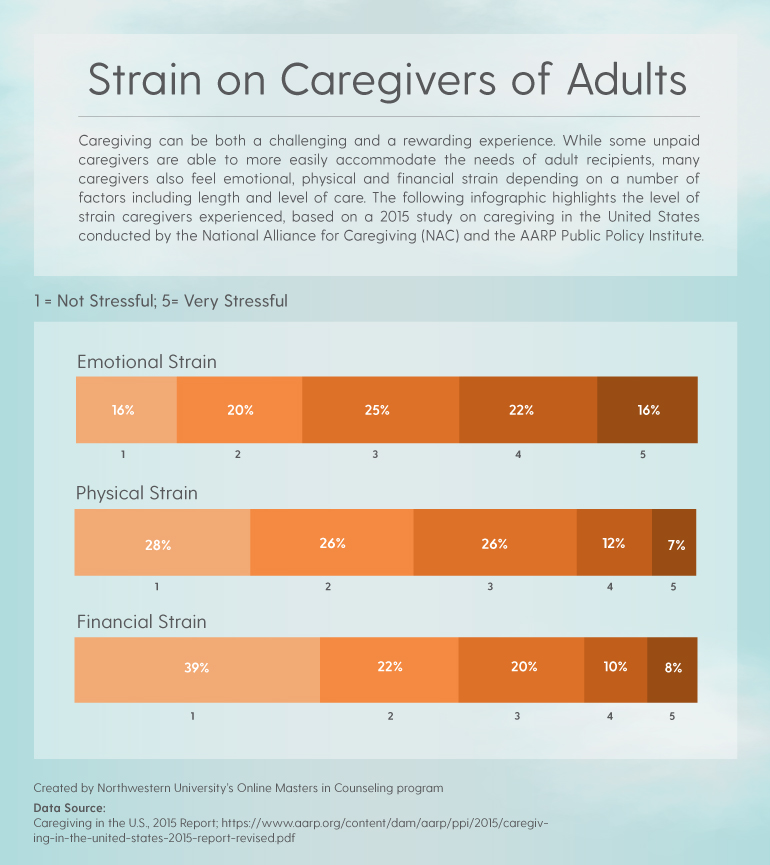 Read the text-only version of this infographic.
Counseling Can Help
Seeing a counselor regularly was integral to her survival plan.
"Any type of therapy or outside help is important," White said. "I did everything I could, from meetings on the phone to going to my therapist."
As baby boomers age and their children are called on to become caregivers, counseling can be an essential resource, noted Dr. Davis. Many caregivers are unprepared to begin providing assistance to a loved one and consequently do not understand how to cope with many of the emotions that accompany the tasks.
"We can help the caregiver understand concepts that have to do with anxiety of depression that they might be experiencing when it comes to caring for their loved one," she said.
A caregiver may need strategies to cope with grief, anger, or denial, while still trying to function and thrive. The Family Caregiver Alliance outlines a number of challenges associated with the emotional side of caregiving along with coping strategies to address those problems. For example, caregivers may be able to take simple steps to address anger, irritability, and guilt by taking breaks, meditating and recognizing their own limitations. But for issues such as depression, anxiety and grief, professional help may be a better path to treating symptoms.
"There are a ton of ways that counseling can help," said Dr. Davis. "Even if it's just to help identify what stage of grief the caregiver is in and provide ways to navigate these unchartered waters."
But that's a lesson many caregivers still need to learn. The Caregiving in the U.S. survey found significantly more caregivers reported they would benefit from self-care conversations with a health care provider than those who reported they were actually having those conversations.
Find a Support Group
Like White leaning on a friend who had also taken care of a parent, many caregivers can also find support from peers living through comparable situations. Brenda Avadian received a phone call at home in Los Angeles from a caseworker delivering meals to her 87-year-old father in Milwaukee. The message: "Something must be done for your father."
When she got to Milwaukee, she looked through her father's cupboards and saw only expired food. She bought him a one-way ticket to California. Her father was suffering from dementia and would live out his days with his daughter and her husband.
The stress was so great, Avidian and her husband, who were in their 30s while they were providing care, started attending support groups for caregivers.
Counselors may be particularly helpful during the initial meetings in order to provide the necessary structure.
Support groups, Dr. Davis said, can provide supplemental assistance for caregivers in conjunction with what counseling can provide, helping them find the strength to keep going, while also offering consolation when a loved one dies.
"I can't accomplish all of that in a 60-minute session with clients so I'm constantly telling my clients that they need to seek additional forms of support," she said.
Those looking to initiate a support group can seek out help from counselors and other mental health professionals for consultation on how to facilitate meetings. Counselors may be particularly helpful during the initial meetings in order to provide the necessary structure. Participants should communicate what they want to get out of the meetings and identify a long-term goal for the group. The Family Caregiver Alliance also offers advice on how to plan, market and structure a support group.
Avadian has gone on to become a national spokeswoman for family and professional caregivers, written nine books, and created a web community, the Caregiver's Voice. She continues to advocate for the benefits of forming and joining support groups which can offer vital connections during difficult times.
"I'll tell you, a support group that is dealing with the same problem you are understands you, has your back, can laugh with you at the sickest joke," she said. "And you walk out of a meeting feeling stronger and feeling like, 'Hey, I can do it.'"
If you are currently providing care to a loved one or are preparing to begin caregiving, the following organizations offer a host of resources and advice on how best to support those in need of assistance:
Citation for this content: Northwestern University's Online Masters in Counseling program.