Attending a 'Helping Professionals Training' after the Disasters in Puerto Rico
I recently attended the Association of Specialists in Group Work (ASGW), a division of the American Counseling Association 2020 Annual Conference held in Dorado, near San Juan, Puerto Rico. This group work conference, titled "Group Work: Illuminating Trails of Hope after the Storm," or Grupos: Iluminando senderos de esperanza tras la tormenta, brought together group mental health counselors from various parts of the world to exchange knowledge, skills and resources necessary to the ethical and socially just practice of group work. The focus of this conference was to allow the ASGW community to gather to discuss the role of groups while serving to help the Puerto Rican community recover in the aftermath of devastating hurricanes and earthquakes.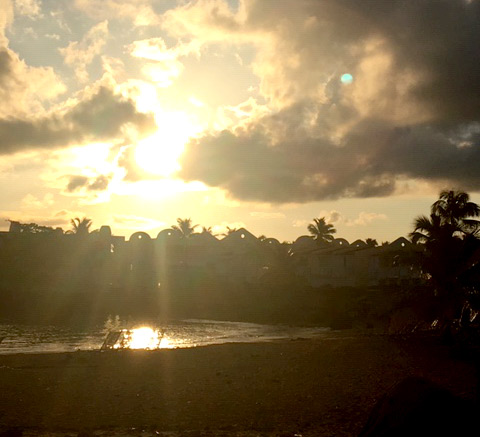 It was a lovely event that brought together group counselors from diverse locations, with unique and creative approaches to group connection in the realm of counseling. The sounds and smells of the island, the smiles of the friendly people, and the beauty of the land connected me to the location. I wandered the Dorado del Mar beach, purchased baubles at stores on the cobblestone streets of old San Juan, and enjoyed the Puerto Rican cuisine of empanadillas (small flaky turnover filled with beef), mofongo (mashed green plantains with garlic), and arroz con gandules (Puerto Rican rice with pork and pigeon peas).
It was enjoyable to take the one-hour drive from San Juan, the capital and most populous municipality in Puerto Rico, an unincorporated territory of the United States. I relaxed in the bright sunshine, marveled in the variety of palm trees as well as the ceiba or kapok trees, and photographed the beautiful landscape of mountains and waterfalls, featuring the El Yunque National Forest.
I almost forgot the devastation the island had gone through. Almost.
As we drove further down the road, I noted the cars and traffic slowing as a row of streetlights were not working properly.
I turned and saw a large empty structure in the distance. Upon further review, I saw debris littering the ground. And then I recognized the blue tarps covering the roofs of many homes and businesses. The blue plastic tarp are provided by FEMA and tacked to the roof after storm damage has occurred.
Hurricane Maria, a deadly Category 5 hurricane, devasted Dominica, St. Croix, and Puerto Rico in September 2017. The island had already been facing a recession for over a decade before Maria hit. Almost half its residents lived below the poverty line – the highest poverty rate of any U.S. state or territory – and the unemployment rate is more than double the national level. The catastrophic event was responsible for at least 3,000 deaths, $91.61 billion in damages and storm loss, and took down the entire power grid of Puerto Rico. It is expected to take years to recover.
There have been storms since 2017 and Puerto Rico is vulnerable due to the devastation that still impacts the infrastructure, and the slow progress rebuilding. For example, the destruction of the hospital in Vieques has left that municipality without a fully functioning hospital.
Sept. 24 and 25, 2019, Tropical Storm Karen caused flooding and strong gusty winds that closed schools and caused mudslides from the mountain regions.
On Jan. 11, 2020, the island experienced a series of earthquakes that shook and rattled the lower portion of the island near Guánica. Puerto Rico sits in a tectonically active region where earthquakes have occurred for centuries, but because Puerto Rico had not experienced a quake of this magnitude since 1918, the quakes took many islanders by surprise. In fact, the aftershocks may still occur for up to a decade.
The mental health counselors of Puerto Rico discussed the impact, the struggle, and the emotional pain experienced by residents. Some of the discourse included opinions about their island's political incompetence, corruption, debt, poverty and unemployment. We talked of the loss of their homes and of the livelihood (a few counselors had not been back to work yet due to the damage to their schools). Many spoke of the blue tarp on their roofs. The blue tarps that had been tacked down for two years as they waited for support to begin the rebuilding process.
When disaster strikes or repeatedly strikes, there are many social problems to consider such as pre-existing concerns like poverty and discrimination of marginalized groups of people. There are emergency-induced concerns, which include family separations, the lack of safety, the loss of livelihoods, the disruption in social networks, the low trust levels in the government, and the limited access to resources. Finally, there may be a humanitarian response induced by overcrowding, the lack of privacy, and undermining of community or traditional support.
The mental health problems that may appear may be those of a pre-existing nature such as depression, schizophrenia or harmful use of alcohol. There may be emergency-induced concerns that might include grief, acute stress reactions, harmful use of alcohol and drugs, and depression and anxiety, including post-traumatic stress disorder; and the humanitarian response-induced, which may include anxiety due to a lack of information about food distribution or how to obtain basic services.
The World Health Organization (11 June 2019) highlights effective emergency responses:
Community self-help and social support should be strengthened, for example by creating or re-establishing community groups in which members solve problems collaboratively and engage in emergency relief or learning new skills, while ensuring the involvement of people who are vulnerable and marginalized, including people with mental disorders.
Psychological first aid offers first-line emotional and practical support to people experiencing acute distress due to a recent event and should be made available by field workers, including health staff, teachers or trained volunteers.
Basic clinical mental health care covering priority conditions (e.g. depression, psychotic disorders, epilepsy, alcohol and substance abuse) should be provided at every health care facility by trained and supervised general health staff.
Psychological interventions (e.g. problem-solving interventions, group interpersonal therapy, interventions based on the principles of cognitive-behavioral therapy) for people impaired by prolonged distress should be offered by specialists or by trained and supervised community workers in the health and social sector.
Protecting and promoting the rights of people with severe mental health conditions and psychosocial disabilities is especially critical in humanitarian emergencies. This includes visiting, monitoring, and supporting people at psychiatric facilities and residential homes.
Links and referral mechanisms need to be established between mental health specialists, general health-care providers, community-based support and other services (e.g. schools, social services, and emergency relief services such as those providing food, water, and housing/shelter).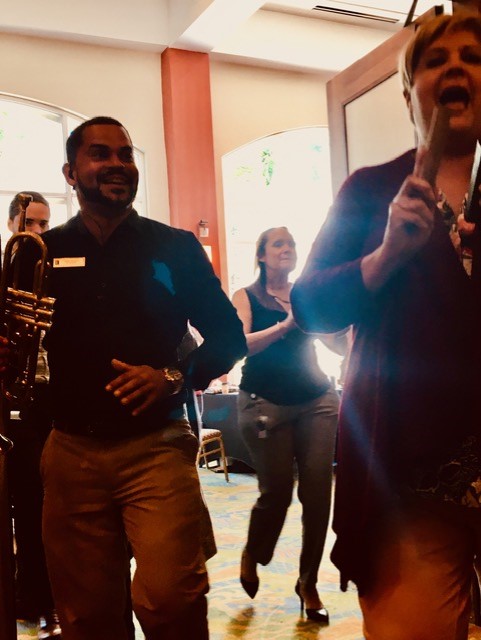 As I sat with these native Puerto Ricans, I noted the vigor and energy and a level of enthusiasm rarely seen at clinical professional conferences. I felt a strong connection to my profession, and I was thankful for the Puerto Rican group counselors who shared their culture, their language and their tradition.
If you would like to help, consider donating to:
HISPANIC FEDERATION: The nonprofit organization launched the UNIDOS initiative for disaster relief in Puerto Rico in response to Hurricane Maria. Hispanic Federation said that through contributions to UNIDOS thousands of solar lamps are being made available for distribution, as well as emergency funds for local health and human service providers working in communities affected by the earthquake. Hispanic Federation has also partnered with the University of Puerto Rico to provide mental health services across the island focused on trauma therapy after natural disasters. To donate to UNIDOS click here.
DIRECT RELIEF: The organization offers support to health care providers across the island, in coordination with the Puerto Rican Department of Health, the Puerto Rican Hospital Association, the Puerto Rican Medical Reserve Corps, and the Puerto Rican Primary Care Association. Direct Relief will be organizing teams of doctors, nurses, and mental health counselors to offer medical and mental health services to residents and those staying in shelters. To donate to Direct Relief click here.
WORLD CENTRAL KITCHEN: Founded by celebrity chef José Andrés, World Central Kitchen prepares meals for people affected by disasters. World Central Kitchen has served nearly 10 million meals on the front lines of emergencies since the 2010 earthquake in Haiti and is on the ground in Puerto Rico serving hot meals to families displaced by the earthquake. To donate to World Central Kitchen click here.
AMERICAN RED CROSS: The American Red Cross is on the ground in Puerto Rico, working with local and federal workers at government shelters to provide emotional support and distribute emergency supplies to earthquake victims. To donate to the Red Cross click here or text the word REDCROSS to 90999 to make a $10 donation.
PUERTO RICAN ARTS ALLIANCE: To donate, write a check payable to the "PRAA Earthquake Relief Fund" and deposit it directly at Wintrust Bank-Logan Square Branch, 2814 W. Fullerton, Chicago, or mail it to PRAA. You can also donate through the organization's website.
REFERENCES
Department of the Interior, U.S. Geological Survey released Jan. 29, 2020, at https://www.usgs.gov/news/magnitude-64-earthquake-puerto-rico
World Health Organization from Feb. 6, 2020, at https://www.who.int/news-room/fact-sheets/detail/mental-health-in-emergencies
Citation for this content: Northwestern University's online Master of Arts in Counseling program.