Faculty Member Eric Beeson Selected as President-Elect of American Mental Health Counselors Association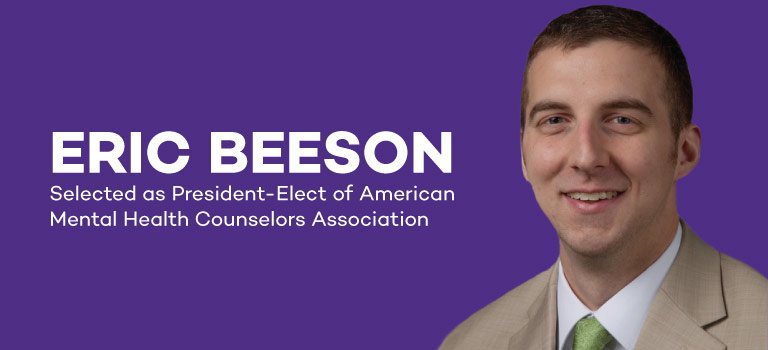 Counseling@Northwestern is excited to announce that core faculty member Dr. Eric Beeson has been selected as president-elect of the American Mental Health Counselors Association. Since beginning his counseling career in 2006, Beeson has worked in various settings including a residential treatment center for youth, a vocational rehabilitation agency, a community mental health and substance use treatment center, an inpatient behavioral health unit, private practice, and a neurofeedback clinic. Professor Beeson, who begins his new role with AMHCA July 1, spoke with Counseling@Northwestern about his plans in this leadership role.
Dr. Beeson, what is one of your top priorities as the newly selected leader of the AMHCA?
Recognition of clinical mental health counselors as Medicare providers continues to be a top priority. We want to expand employment opportunities, but also ensure that the older adults we serve continue to receive care from their counselors once they age into the Medicare system. This has been an ongoing battle for a decade, if not longer. That will continue to be the most important priority from an advocacy standpoint.
But also, AMHCA has other important priorities, including advancing clinical practice. Specifically, AMHCA has been leading the field in the promotion of neuroscience-informed practice by creating advanced standards, establishing a neuroscience interest network, and creating a dedicated section to neuroscience-related scholarship in the Journal of Mental Health Counseling. I hope to continue the initiatives of my predecessors while elevating the AMHCA brand to new levels.
How long have you been a member of the organization, and what prompted you to pursue the leadership position?
I first became a member in 2013. I was the president-elect of the Kansas state chapter, which involved going to the national conference and participating in leadership training. When I got to that conference, it was a little smaller than I was used to, which was refreshing because I got to interface with the current board and leaders. They were all supportive and encouraging. I really hadn't experienced that with other organizations. Since then, they've provided me with many opportunities for leadership development, the most important of which was to help me to establish a new section in their journal. For me, it has been a natural progression from state to national leadership.
What are the most substantial changes you have observed in the field of mental health counseling in recent years?
There's been a lot of advocacy victories. We are recognized providers to [government-managed health insurance], which has increased our opportunities within the division of Veterans Affairs for employment reasons. We've been trying to ensure the implementation of parity for mental health and substance use services. The Medicare licensure effort is where we have the strongest momentum because that's fueled by a couple of different public health concerns. Our licensure portability initiatives have really picked up some steam too as we look at how to remove some barriers so that one can practice in multiple states. Those have been some primary accomplishments from an advocacy standpoint.
Do you think the public perception of mental health and/or mental health counseling has changed?
Yes and no. I think people are definitely more aware of mental health challenges and are probably better able to identify mental health challenges among their peers, friends, loved ones, and even themselves. But, the stigma related to substance use and other mental health disorders is still very prevalent, especially when you see mental illness tied to harmful images in the media or violent acts. That's a big challenge that a lot of advocates in the field have to face. If we're careful about the language that we use, I think that will continue to reduce stigma. In the treatment system, for a lot of years, it's been language that's been problematic from a policy standpoint. For example, are we being thoughtful about the words we use? Unfortunately, sometimes as far as policy initiatives, new laws get put into place, but they have the potential to perpetuate stigma. You see that with things like the opioid epidemic and gun violence.
What areas of policy do you think need to be addressed?
Most advocacy that we've looked at has been about promoting the profession and developing the profession. Every now and then, there will be direct-service policy initiatives. I would like to see a little more partnership with some of the consumer organizations and some of the family organizations, such as the National Alliance on Mental Illness, and really advocate for changes to the care structure. For example, it's important to ensure there's a full continuum of care for people diagnosed with substance use and other mental health disorders. That starts with prevention and ends with after-care and recovery support. Those two ends are probably the most critical ends, but they're often the least funded components of the continuum of care. We're looking at consumer advocacy and actual treatment services. I would really love to see those two elements pushed a little bit more.
Where is the greatest need for mental health counselors – cities or rural areas?
I think it's wise to make that comparison. Some of the arguments for interstate practice licensure have been about access, especially in a growing telehealth system. People are seeing providers from all over the country, so there's a need to have a more global licensure. The physical therapists have been really good about promoting interstate compact systems, which has been something we've been looking at. But, we've also been looking at unified training standards and counselor licensure across the states. All of those things can address issues of access. Where is the greatest need? I think the need is just different in both areas. Certainly, in rural areas there are less providers, but in cities, there are just different types of needs and more people. The bigger issue is that if the need is there, that there's adequate numbers of professionals to meet that need.
Through advocacy and leadership, Professor Beeson hopes to advance the counseling profession by promoting strong advocacy and advanced practice standards. He hopes that the work of AMHCA will have benefits not only to the students he works with at Counseling@Northwestern, but to all clinical mental health counselors for years to come.
If you are a professional counselor working in mental health counseling, learn more about the benefits of becoming a member of AMHCA and discover how you can participate in advocacy efforts to advance the practice.
Citation for this content: Northwestern University's online Master of Arts in Counseling Program.