How to Deal with Holiday Financial Stress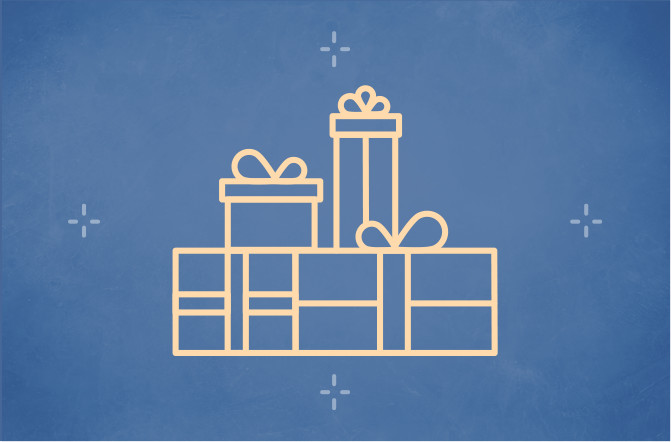 The holidays may be "the most wonderful time of the year," but they can also be "the most stressful time of the year." During this season, we are bombarded with holiday ads on TV, the radio, and in magazines telling us to buy more and more. It is easy to spend beyond your budget trying to meet holiday expectations for family and friends. However, with the right strategies, there is hope that you—and your wallet—can enjoy greater holiday bliss. Here we will cover five specific financial stressors that the holidays present and potential solutions that can be easily implemented. This can help you stay within budget, without sacrificing holiday joy.
Stressor No. 1: Buying multiple gifts for multiple family members.
A big family may be a source of comfort and strength, but the pressure to buy all those gifts may be too much for your wallet to bear.
Solution: Suggest a gift exchange instead. As an alternative to buying for all, throw everyone's names into a hat and pick just one for whom to find the perfect gift. Be creative with your gift-giving. If making your gift isn't an option due to your lack of artistic skill, you could always give someone the gift of time.
"Offering your time is the biggest gesture, since it's the one thing everyone lacks during this time of year," says financial advisor Michael D. Ruggiero. "Offering to babysit your sister's kids while they spend the day shopping for gifts or helping a good friend prepare meals for a holiday party is a very generous gift that costs little more than time."
Stressor No. 2: Traveling home for the holidays.
Although some families live close enough that stopping in for the holidays is just a matter of trekking over the river and through the woods, for many, such a trip involves a lot more. It might mean expensive air travel with peak-season rates or a long road-trip with related expenses, in addition to time away from work.
Solution: If you're intent on traveling, book your airline reservations well in advance and take advantage of traveling in off-peak hours when flights are cheaper. Websites like Priceline allow you to name your own price for flights and hotels, then search multiple travel sites on the web to find the best deal. If you need a place to stay, Airbnb offers affordable and homey housing all over the world.
As an alternative to traveling, consider shipping your gifts and making the most of technology by attending holiday gatherings virtually through applications like Skype. Shipping gifts to your destination will not only save money on expensive baggage fees, but also can cut travel stress.
Stressor No. 3: Finding the perfect gift.
Even if your family has opted for a gift exchange, you'll likely burden yourself with the need to find the perfect gift. However, doing so may lead to additional expense if you're not prepared.
Solution: Just ask. Instead of trying to find the perfect gift, find out what the other person really wants. If your research reveals that it's outside of your budget, talk it over and negotiate for something that is within your budget. In addition, be sure to shop early, so you'll have a wider selection.
Stressor No. 4: Paying the price for last-minute shopping.
With everything else you need to get done during the holidays, shopping may be last on your list. Making hasty decisions under a time pressure is both stressful and expensive.
Solution: Create a plan. "Start before Thanksgiving by compiling a list of all the people you need to shop for and what the gift will be for each person. Stick with the list and create a schedule that allows you to complete shopping two weeks before you are exchanging gifts," suggests Ruggiero. "This will relieve the pressure of getting shopping done, and will allow you to focus on other aspects of the holidays, like cooking, traveling, and family time."
Stressor No. 5: Feeling that you have no money to spend.
While these strategies may be helpful in dealing with holiday financial stress, overcoming the perception that you have no money to spend may be the greatest challenge of all. However, while a shortage of funds may be your worry, creating a plan can be a tremendous help.
Solution: Create a budget to determine if you have money to spend during the holidays. Saving a little bit each month can decrease stress when it comes time to holiday shop. You can also talk with your family about your financial constraints. "Get the whole family on board so that everyone feels comfortable with the idea of a holiday budget," says Ruggiero. "If you have kids that are old enough to understand, tell them in advance that the number or quality of gifts will be modest."
Dr. James Ruby, Assistant Director of Clinical Training for Counseling@Northwestern, also suggests practicing intentionality. "When we pause, take a deep breath, and respond with intentionality, our response can be less triggered by emotions and more motivated by what is truly important to us," says Ruby. "For example, if you 'over-buy,' you might end up resenting what you are giving and how it might impact your bank account later on. You may even come to a place where you resent the person you are supposed to be honoring with the gift. If you were to intentionally plan what you give, you could do so with more joy and celebration because you will not be over taxing yourself financially, timewise, or personally."
Financial worry is a common holiday stressor. Sometimes the high expectations and need to spend can cast a dark shadow on what is supposed to be a happy season. With these tips in hand, you can go into the holidays with your finances in check and focus on what really matters: spending quality time with family and friends.