Mental Health First Responder Reflects on Supporting Houston Communities After Hurricane Harvey
Hurricane Harvey made landfall near Rockport, Texas, the week of August 28, 2017, and for four days, proceeded to drop more than 40 inches of rain, an unprecedented amount of rainfall with catastrophic flooding. It continued to make landfall two more times before dissipating into a tropical storm and finally, a tropical depression.
On September 7, I arrived at the Houston Chapter of the American Red Cross office ready to respond to the national call seeking mental health counselors for rapid deployment to Hurricane Harvey relief. As a licensed counselor in Illinois and North Carolina, I felt a general understanding of the difficult nature of hurricane relief and the role of mental health support in the disaster experience. However, it can be an overwhelming experience to walk in on a national organization serving 39 Texas counties, already activated and engaged in the massive recovery process.
More than 2,000 compassionate volunteers left the safety and security of their own homes to don the red volunteer vests. These selfless individuals actively engaged in various aspects of disaster relief work. As of September 19, 2017, the Red Cross provided support to more than 32,000 people who sought refuge in at least 192 shelters across Texas, and six shelters in Louisiana. With partner shelters, that number rose to 70,000 people who were provided some form of refuge or service while the Red Cross is preparing to shelter up to 120,000 evacuees.
In a massive disaster, such as Harvey, victims may require financial support to begin the process of getting their basic needs met. The Red Cross also works to communicate with local and federal resources as well as case management for those victims who may have lost everything. Feeding victims of the hurricane is currently noted at 807,000 meals and snacks in Texas and an additional 33,000 served in Louisiana. There is also a follow-up process of health care with a nursing staff providing assessment and basic medical care in the community and within shelters.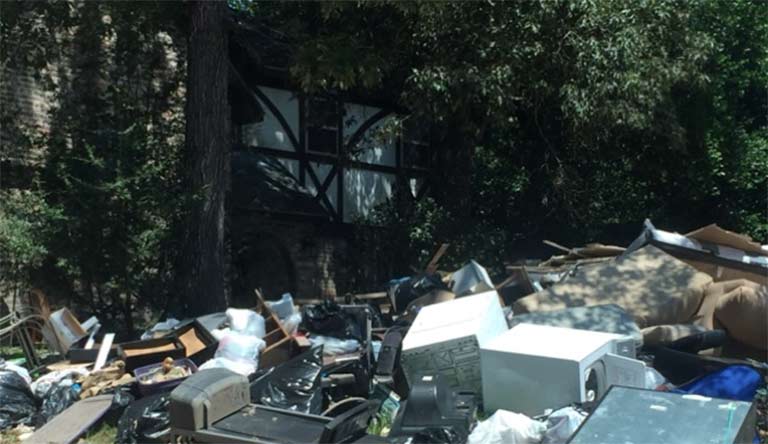 The Red Cross also maintains community partnerships that assist with bulk distribution of resources and financial donations. A final area of focus is on mental health and providing support to the victims, the Red Cross volunteers, the community members, and the police as needed. With about 90 percent of the Red Cross workforce coming from volunteers, another major aspect of the work involves finding the volunteers and organizing their transportation, housing, feeding, and training for a specific disaster.
My initial response or "my gut feeling" was to want to flee the devastation, and yet disaster work relies on helpers moving toward the destruction. Crisis counseling or disaster mental health work is a variation of the clinical mental health, humanistic tradition. It involves a brief, one-time meeting of individuals who have experienced varying levels of loss as they are seeing and experiencing it firsthand. The victims must return to the devastation, to direct their next steps. It is pragmatic, specific to basic human needs, and experienced on site or near the site of the disaster.
Within the Red Cross, disaster mental health is also focused on helping the helpers. Throughout the day, it was important to talk to other disaster volunteers and to see how they were experiencing their deployments into a disaster zone. Making connections with others and allowing for opportunities to process their individual experiences was helpful in calming a highly stressful situation.
While driving through areas of Houston, the fourth largest city in the United States, my experiences included travelling with the nursing crews out to areas of devastation and destruction. We sought out communities that had been impacted by the flooding that was brought on by Hurricane Harvey. We discussed the experiences of victims, assessing the situation and identifying and communicating back to headquarters what aftercare was required. In some areas, it was necessary to set up food trucks for the victims. In other communities, they required basic items such as diapers, medications, or toilet paper.
Of great concern to the victims of a hurricane, were the losses that they experienced. It may have been a loss of life (human or pet), the loss of their neighborhood and homes, or the loss of the safety they felt prior to the storm. This loss is ongoing and their grief is palpable. In terms of mental health, the scope of this trauma will be felt for a long time.
With such devastation, disaster mental health professionals must also engage in self-care and take steps to avoid becoming overwhelmed by the experience. In my case, it was important to find small victories to keep the experience in perspective. One such event came from the smile of a young child whose parents had lost everything. In another situation, it involved finding a lost puppy and returning it to the young owner.
It could be easy to negate the role of mental health in victims of a disaster because the victims are struggling to just get by or to survive. This is where mental health plays such a critical role. The disaster mental health professional seeks to identify the strength and resiliency within the victims. A disaster can clearly demonstrate the resilient nature of the human experience, but sometimes it may have to be pointed out to others. It's our role to alert those victims who were devastated to the inner strengths that they maintain so they can thrive beyond the disaster.
References
National Voluntary Organizations Active in Disaster (NVOAD)
National Institute of Mental Health
National Coalition for Mental Health Recovery
www.redcross.org/about-us/our-work/disaster-relief