The Opera Reflections: Unsung Heroes
By Jennifer Robertson and Dr. Michele Kerulis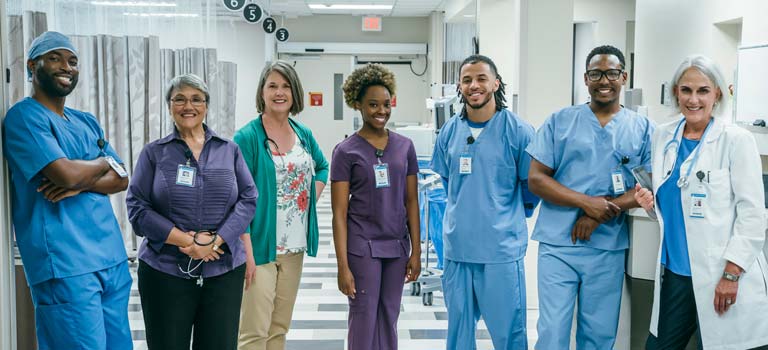 This is the concluding article in a series that examines mental health themes in opera. Special thanks to the Lyric Opera of Chicago for the invitation to examine the mental health themes in opera and to Roger Pines, Lyric's dramaturg, for his insightful knowledge about all things opera.
As people across the globe struggle with the pain and isolation of the pandemic, essential workers have selflessly come to the rescue in hospitals, homes, farms, Zoom meetings, mental health community centers, offices, streets, empty classrooms, markets, and beyond. Far from the glory of the world stage, these individuals work around the clock to keep us safe and healthy. They might not wear the lavish costumes of operatic legends, but they are, nonetheless, our modern day heroes.
Opera can offer a multifaceted and dimensional perspective of our life today. The lyrical storytelling in opera provides an opportunity to experience the full expression of humanity including love, tragedy, joy, conflict, anger, disease, sadness, and healing. Considering the conflictual nature of our lives and emotions, opera invites us to dive into the experience and perhaps even let go a little as we journey with the story. Since the Centers for Disease Control and Prevention (CDC) encourages us to engage in stress-relieving activities to maintain our mental health, we can turn to opera as one of the strategies in our ever-expanding emotional toolkit to embrace, explore, and release our feelings.
Although opera may seem to be a novel technique for managing anxiety, research reflects its restorative power. Persistent and historical themes explored through the art of opera have been used in various therapeutic modalities connected to neuroscience including opera therapy. Opera offers an emotional examination that could feel revelatory in its scope and meaning, and that approach could ease some of the anxiety people feel today.
"We can turn to opera as one of the strategies in our ever-expanding emotional toolkit to embrace, explore, and release our feelings."
After navigating the past six months of quarantine and social distancing, people may envision the makings of a leader or hero in a completely new way. Our heroes may be in unlikely environments such as the sanitation field keeping us safe or the culinary field keeping us fed. Admired people may span social, medical, and political realms and reside in our homes or neighborhoods as we watch individuals actively caring for one another in a way that feels more connected than ever.
Heroes in opera encounter inherent conflict and struggle in leadership. Stewardship is not always glorious or recognized by the public. Those working on behalf of others right now encounter numerous sacrifices that may remain invisible to most people. They offer their time and energy despite the cost in the hope that their work will contribute to the overall goal. Opera reflects the loneliness and isolation of leaders that could appear resonant with our modern day heroes working tirelessly to keep communities healthy and safe.
The hero's journey is never an easy one. Opera often examines the duality of the struggle that could represent Jung's personal and shadow archetypes. The exploration highlights the importance of embracing the unflattering and vulnerable aspects of leadership and sacrifice. People could potentially abuse the power of the hero, especially if they lack insight about balancing the delicate nature of their public and personal lives. Despite our inclination to think in concrete terms, life presents an opportunity to explore the shadow side.
"The hero's journey is never an easy one."
If the world today was reflected in an opera, the pandemic could feel like the villain. The nature of existence and daily life suddenly changed on a global scale, impacting everyone in collective and personal ways. When isolation could be a likely contender as the antagonist in many personal operatic storylines, there is an opportunity to reflect on our individual responses, sense of agency, and support of local, national and international heroes. Just as the chorus represents the reflection of public sentiment in opera, individual voices and actions matter. Each individual who connects shifts the dynamic.
If 2020 was depicted in an opera, our essential workers are the unsung heroes. Society, as the audience, can attempt to rise above struggle and sacrifice and strive to embody the leadership qualities of bravery, adaptability, and tenacity moving forward. Perhaps opera could offer examples of resilience as we continue to manage our emotions and navigate the new world. Join maestro Enrique Mazzola of the Lyric Opera of Chicago sharing personal interpretations of Verdi's Attila to learn about music, epic storytelling, and how emotions impact our choices.
References
Centers for Disease Control and Prevention. (2020). https://www.cdc.gov/coronavirus/2019-ncov/daily-life-coping/managing-stress-anxiety.html
Gabriel, Y. (2017). Leadership in opera: Romance, betrayal, strife and sacrifice. Leadership, 13(1), 5–19. https://doi.org/10.1177/1742715016663302
Lorusso L., Porro A. (2020) Opera and Neuroscience: A Historical Approach and Its Relevance Today. In: Colombo B. (eds) Brain and Art. Springer, Cham. https://doi.org/10.1007/978-3-030-23580-2_8
Lyric Opera of Chicago. (2020). https://www.lyricopera.org/productions/2020-21/breaking-down-the-score-attila-with-maestro-enrique-mazzola/
Soriano, J. (2018). On doctors and their operas: A critical (and lyrical) analysis of medicine in opera. Chest Journal, (154)2, 409-415. https://journal.chestnet.org/article/S0012-3692(18)30428-8/fulltext
Citation for this content: Northwestern University's online Master of Arts in Counseling program.