The Benefits of Mindfulness
This article was written by online faculty, Dr. Cori Costello, LCPC, ATR-BC, who has been a licensed counselor and registered/board certified art therapist for 20 years. Her current research is focused on training master's level counselors and developing various strength-based approaches to building resiliency levels.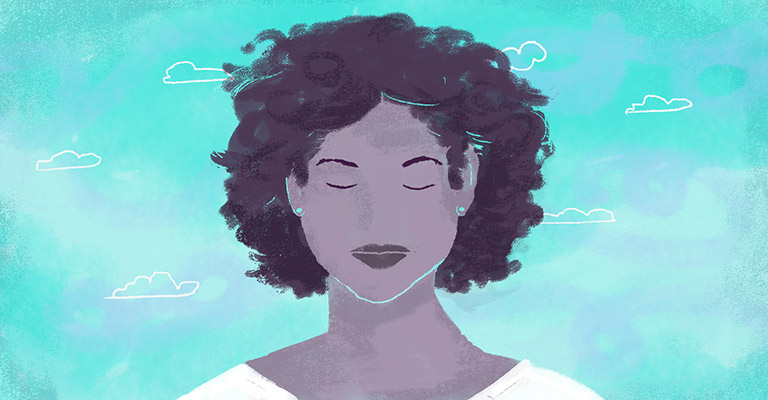 What Is Mindfulness?
Mindfulness is a Buddhist concept that is described as waking up and "living in harmony with oneself and with the world."[1] It is a term that has been discussed with great frequency in various fields of study including well-being, mental wellness, and positive psychology. More research is indicating the effectiveness of the mindfulness approach or mindful techniques. But how does one think and act in a mindful way? How is it that mindfulness can decrease depressive symptoms or increase wellness approaches?
The concept of mindfulness is practical in that it requires an individual to practice a state of being within the moment and without judgment. Sounds simple, but given the nature of life, the levels of stress in maintaining employment, and the ability to communicate with others at any point in the day or night, this becomes less than ideal. Mindfulness requires an active approach to accepting thoughts, whether they are positive or negative, and allowing all thoughts to pass through a conscious moment.
Mindfulness originates out of Eastern philosophy and has everything to do with the reduction in suffering. It puts one's way of thinking and being in the moment as essential to the fact that in living, setting expectations high and not reaching those goals leads to disappointment. Lowering the level of expectation can improve life satisfaction.
How Do I Incorporate Mindfulness or Meditation into My Life?
Mindfulness practices and meditation can be learned through the spiritual or the secular settings, and they require formal or informal practices toward enlightenment. Being open and accepting, as well as curious about what mindfulness is, could make a mindful difference.
According to the book "The Art and Science of Mindfulness," mindfulness comprises three elements.[2]
Know why we practice mindfulness and understand the motivation for it.
Know the operations from a moment to moment and internal to external experience.
Understand the quality one brings to the aspect of attention.
The results of such a mindful approach can be observed in our body's response to stressful situations. The integration of conscious, non-judgmental attention with focused and controlled breath work has a calming effect on other parts of the central nervous system. There is a reduction in activation of the vagal nerve, which carries information from the body into the brain. Once in the brain, the neurons begin firing and wiring based on the perceived level of energy, such as stress, calmness, or anxiety.
It has been clinically observed that brain regions show growth with "enhanced learning and skill acquisition and shrinkage with emotional illness and physical disease of the brain."[3] The act of mindful awareness or meditative practices impacts the brain by "stimulating neuronal activity and growth in our own brain by focusing attention on our own intentions."[4]
So, continuing behavioral rehearsal of mindfulness approaches can lead to decreased arousal within the central nervous system and improved regulation from difficult or strong emotions. Mindfulness reduces feelings of stress and anxiety, decreasing the body's reactionary response, which can improve neuroplasticity, the process in the brain of the neurons firing and rewiring together.
Wow, all of that occurs with a mindful thought. Take a calming breath and begin incorporating mindfulness into your life using the following resources:
Mindfulness Resources
References
[1] Kabat-Zinn, J. (1994). Wherever you go, there you are. Page 3. New York: Hyperion.
[2] Shapiro, S. L., & Carlson, L. E. (2009). The Art and Science of Mindfulness: Integrating Mindfulness Into Psychology and the Helping Professions. Washington, D.C.: American Psychological Association.
[3] Scaer, R. (2012). Eight Keys to Brain-body Balance. Page 2. New York: W. W. Norton.
[4] Siegel, D. J. (2007). The Mindful Brain: Reflection and Attunement in the Cultivation of Well-Being. Page 291. New York.
Want more actionable tips? Visit our wellness resource page to develop a personalized plan for wellness in your life!