Counseling@Northwestern's First Graduating Class: A Community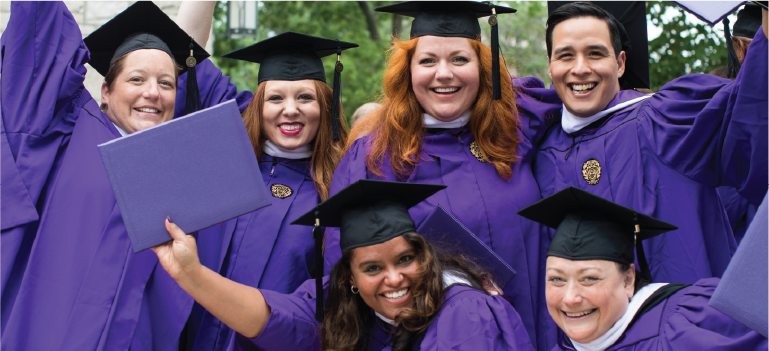 On Saturday June 26, 2017, Counseling@Northwestern, the Master of Arts in Counseling Program delivered online from The Family Institute at Northwestern University, awarded its first graduating class with diplomas. Throughout the weekend, as the graduates walked across the stage and accepted their degrees, received their coveted Northwestern purple shirts, and reflected back on their time in the program, there was one common, resonating theme: community. Counseling@Northwestern provided these graduates with more than just the skills and experience they needed to become successful mental health counselors; the program gave them a community and a place to thrive.   
Capstone Immersion, Luncheon, and Purple Shirt Ceremony
A central aspect of completing the Counseling@Northwestern program is the Capstone Immersion Experience. Students from all over the country traveled to Chicago to present their research or final projects to peers and faculty during the Capstone Research Symposium. This unique experience allows students to not only gain valuable practice creating and submitting a conference proposal but also to present their competencies developed during the program. Students had a chance to see their fellow classmates' presentations, solidifying the connections made over the online platform during the last two years of classes.
Following the Capstone Research Symposium, students were invited to celebrate their upcoming graduation at a luncheon in their honor where they participated in the traditional Northwestern Purple Shirt Ceremony. The shirt represents that they are now graduates of Counseling@Northwestern and are now part of the Northwestern community as alumni. It also represents their new status as a mental health counselor. Each student who receives a purple shirt is qualified to provide mental health care at locations across the country.
Graduation Ceremony
The Counseling@Northwestern program first began accepting students in April 2015. Since then, two cohorts have completed the rigorous program. Many students have been finished with the program for some time; however, they were waiting for the June graduation ceremony to officially walk across the stage and receive a diploma. The invitation to come to campus and graduate solidifies the community aspect that is central to the Counseling@Northwestern program.
The graduation ceremony took place at Alice Millar Chapel on the Northwestern campus in Evanston, Illinois. The graduating students from Alpha, Beta, Gamma, and Delta classes walked down the center aisle as the sun shone through the stained-glass windows. Program Director Stephannee Standefer took to the podium, and the community of Counseling@Northwestern students met in person for the final time before they began their careers as counselors. As the chosen class speaker, Darrin Dennis said, "I hope wherever I go next, I find a community like this."
For more information on Counseling@Northwestern immersions, please visit our immersion page.