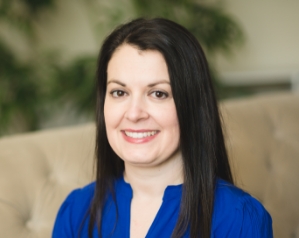 Carolyn Russo, PhD, LMHC
Clinical Training Director and Core Faculty
Carolyn Russo is a Clinical Training Director and Core Faculty at Counseling@Northwestern, The Family Institute at Northwestern University. Dr. Russo earned a PhD in Counselor Education from Seattle Pacific University. Her dissertation topic examined new counselor self-efficacy and the supervisory working alliance. Dr. Russo is passionate about supervision and training the next generation of counselors. Supervision is the single most important part of a counselor's training and quality supervision helps to shape a new counselor.
Today, Dr. Russo is contributing to the Master of Arts in Counseling program that is accredited by the Council for Accreditation of Counseling and Related Education Programs (CACREP) at Northwestern University by way of supporting student's clinical training experience and teaching within the program. Under her direction are close to 100 students that she oversees training and advising.
Dr. Russo enjoys the mentoring aspect of counselor education and emphasizes the growth of developing the new counselor identity, self as counselor and self-reflection. These practices are modeled by strong supervision skills and relationships which emphasize Dr. Russo's strengths as a counselor educator. The role as counselor is a privilege allowed to us and should be held with care and respect, these values are maintained through the model of a parallel process between counselor to client and supervisor to trainee. Dr. Russo's experience in teaching diagnostics with the DSM-5, counseling theories and counseling ethics has spanned over the last decade. Her journey as a counselor educator began in 2009 and has prepared her for the rigor of her current role.
Dr. Russo has previously managed a training clinic in a university setting and knows the unique aspects of leading students during this important point in their education. Currently, Dr. Russo owns a group practice, also considered a training clinic, where she supervises and provides therapy. Dr. Russo believes in the teaching practitioner model which allows real experience to facilitate learning within the classroom. Her clinical specialties include disordered eating, life transitions and relationships, attachment and family of origin, and personality disorders within the adult population both individually and as system. Dr. Russo continues her scholarly work as a member of several counseling organizations and presents workshops at conferences including topics in supervision and experiences in online counseling programs.
Prior to becoming a counselor educator and clinician Dr. Russo worked in retail management where she reached sales goals while managing several employees. This experience has strengthened her leadership skills and emphasized her passion for mentoring. Dr. Russo works best when she is able to develop a strong relationship with her students through trust building and open communication. A strong supervisory working alliance sets the standard for the best clinical training experience.
Recent Presentations and Publications:
2022 Western Association for Counselor Education and Supervision (WACES), Primary Presenter Effects of the Supervisory Relationship on Counselors Development of Self-Efficacy.
2021 Personality Disorders: Diagnosis and Treatment, Primary Presenter Continuing Education Workshop for mental health counselors.
2017 Seattle Pacific University Supervision Symposium, Keynote Speaker Clinical Supervision: Roles, Identity Development, and Self as Supervisor.
2016 National Alliance on Mental Illness (NAMI Washington), Primary Presenter Post-traumatic Growth: Seeing the Veteran Experience through a New Lens.
2014 Counseling Today, American Counseling Association Publication Contributor for the article: Quieting the Inner Critic Published in February 2014 Issue.
2013 Goodtherapy.org Topic Expert Contributor on Self-Esteem, Publication online. Three Simple Ways to Build Self-Esteem, Author. Encouraging Kindness: Building Self-Esteem in Children, Author.
2012 Western Association for Counselor Education and Supervision (WACES), Primary Presenter. A Supervisor and Teacher: The developing Roles in Counselor Supervision.
2011 Association for Counselor Education and Supervision (ACES), Primary Presenter. Multidimensional Doctoral Supervision: A Relational Case Study (in collaboration with Ann Blake, PhD, Supervisor)
2010 Western Association for Counselor Education and Supervision (WACES), Primary Presenter. Complexity of Multidimensional Supervision in a Hybrid Doctoral Program: A Case-study (in collaboration with Ann Blake, PhD, supervisor)
2010 Western Association for Counselor Education and Supervision (WACES), Primary Presenter. Web-Based Supervision: The Advancement of Technology in Counselor Education