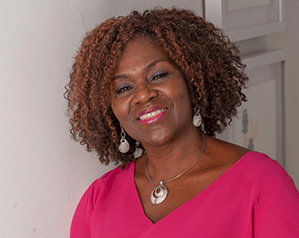 Donna Rosana Baptiste, Ed.D, LCPC, LMFT, LCP
Department Chair and Clinical Professor
Dr. Baptiste is Department Chair and Clinical full professor in the Counseling graduate degree program at The Family Institute, Northwestern University. Although Dr. Baptiste is the program's chief executive administrator, she loves teaching, training, and student mentorship. Dr. Baptiste's signature courses are counseling methods, child, and adolescent development, and marital, couple, and family counseling. Dr. Baptiste also still maintains a counseling practice that enriches her educator role. She specializes in couple distress; infidelity; child and adolescent/family struggles; divorce recovery and mediation; co-parenting and custody consultations; and ethnic minority and immigrant family life. Dr. Baptiste also has vast expertise in counseling women and girls based on her background in a former job as an Associate Director of a Center for Research on Women and Gender. She is especially devoted to advancing mental well in underrepresented minority women. Dr. Baptiste's love for teaching and training and her dedication to students for over twenty-five years have been honored by teaching awards and other accolades.
As a researcher, Dr. Baptiste has co-sponsored studies in the U.S and international locations funded by the National Institute of Mental Health (NIMH). These studies are about promoting healthy emotional adjustments in adolescents, by strengthening family life. Dr. Baptiste's studies have produced several dozen journal articles and book chapters in which she serves as co-author. A book authored by Dr. Baptiste and a colleague will be soon published by Cambridge University Press. Dr. Baptiste serves on several boards of social service organizations and research committees at the local, federal, and international levels. Key to Dr. Baptiste's professional identity is a profound and demonstrated commitment to Diversity, Equity, and Inclusion in all aspects of life and work.
Recent Presentations and Publications:
Baptiste, D & Gooden. A. (in press). Psychotherapy and Counseling with Black Women: What, Therapists Should Know and Do. Cambridge University Press: Cambridge, England.
Baptiste, D. & Southern, S. (2022). Family and Couple Counseling. In R. Fulmer(ed). Counseling & Psychotherapy: Theory and Beyond. Cognella Press: CA.
Baptiste, D. (2022). Casestudy Review. Bursting the Bubble of Individual Therapy: The Need to See Our Clients in a Relational Context (By Laurie Mintz). Psychotherapy Networker Magazine, January/February 2022.
Baptiste, D & Burch, K. (2021). Women's and leadership. Building Community. In C. S. Clauss-Elhers (ed). Cambridge Handbook of Community Psychology. Cambridge University Press: Cambridge, UK.
Baptiste, D, Nguyen, T & Burch, K. (2018). Collaboration in Couple and Family Therapy. In J. Lebow, A. Chambers, D. Breunlin (Eds). Encyclopedia of Couple and Family Therapy. Springer. NY.
Yorke, C., & Voisin, D., & Baptiste, D. (2016). Factors related to help-seeking attitudes about professional mental health services among Jamaican immigrants. International Social Work. 59, 293 –304.