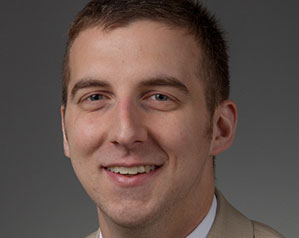 Eric T. Beeson, ​​​Ph.D., LPC, NCC, ACS, CRC
Director of Teaching and Learning Innovation
Neuroscience Integration Lab
eric.beeson@northwestern.edu
Eric Beeson started full-time with Counseling@Northwestern in early 2016, which has allowed him to celebrate with every Capstone group in the history of the program!
In addition to his love of sports, outdoors, and board games, Eric has demonstrated a passion for the counseling profession through clinical practice, research, leadership, and advocacy.
Eric is a licensed professional counselor (LPC) in North Carolina and West Virginia, a national certified counselor (NCC) with the National Board for Certified Counselors (NBCC), an approved clinical supervisor (ACS) with the Center for Credentialing & Education (CCE), and a certified rehabilitation counselor (CRC) with the Commission on Rehabilitation Counselor Certification (CRCC). Eric is also a certified facilitator of the Wellness Recovery Action Plan (WRAP®) and SMART Recovery® groups as well as a Certified Resilience Coach.
Eric received his PhD in counselor education from Ohio University and his MS in rehabilitation counseling from West Virginia University.
Since beginning his counseling career in 2006, Beeson has gained experience in various settings including a residential treatment center for youth, a vocational rehabilitation agency, multiple community mental health and substance use treatment centers, a high school, a university counseling center, an inpatient behavioral health unit, a private practice, and multiple neurofeedback clinics.
Eric's current research focuses on generating theory related to the integration of neuroscience in counseling and psychotherapy as well as testing emerging translational neuroscience models and programs to promote the health and well-being of individuals and systems, and he runs the virtual Neuroscience Integration Lab.
Although neuroscience infusion is his primary focus, Eric encourages all members of the Counseling@Northwestern community to lean into their empirical curiosity and reach out for advising, mentorship, and consultation!
Eric is most proud of a few professional accomplishments including: serving as the 43rd President of the American Mental Health Counselors Association for the 2019-2020 term; co-founding the "Neuroscience" section of the Journal of Mental Health Counseling; being recognized as the 2020 Gary R. Walz Trailblazer award winner by the American Counseling Association; co-editing the book The Neuroeducation Toolbox: Practical Translations of Neuroscience in Counseling and Psychotherapy; and founding the Brainstorm Neuroscience Community. To learn more about Eric's work, please visit his website.