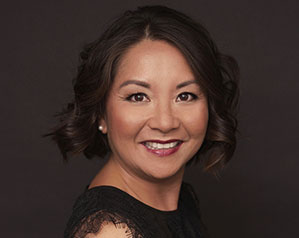 Jinah Jimenez Rordam, PhD, NCC, ACS
Core Faculty Clinical Lecturer
Dr. Rordam is a Core Faculty Clinical Lecturer in the Counseling@Northwestern program at The Family Institute at Northwestern University. She is a board-certified counselor (NCC, National Board for Certified Counselors) and an approved clinical supervisor (ACS, The Center for Credentialing and Education). She earned her PhD in Counselor Education and Supervision and a Master of Arts degree in Counseling from the University of South Florida, and a Bachelor of Science in Psychology from the University of Florida.
Dr. Rordam brings years of academic teaching experience in traditional on-ground university settings, as well as virtual on-line teaching and supervision at both undergraduate and graduate school programs. She has served in Administrative and Professional leadership roles in College and Career Counseling, and directed College Career Center services in both public and private college and university settings. In addition to her academia roles, Dr. Rordam worked in the private sector as a management consultant on the consulting side of a major accounting firm, as well as in roles as a corporate trainer.
Dr. Rordam's areas of interest include supervision, group work, college and career counseling, developmental theories, and multicultural issues in counseling and counselor education. She maintains active membership in the American Counseling Association, Association for Counselor Education and Supervision, Association for Specialists in Group Work, American College Counseling Association, the Southern Association for Counselor Education and Supervision, and the Florida Counseling Association.
Recent Presentations and Publications:
Rordam, J. J. (2021). Socioeconomic status, single parents, and family dynamics in homeschooling and mental health. In L. Teufel-Prida (Ed.), Homeschooling and mental health pp. 223-242). Cognella.
Rordam, J. J. (2020, March 31). Addressing mental health conditions among women remains a national priority. Counseling@Northwestern Blog.